JOHNNIE WALKER The Four Pillars
NOSING & TASTING / Whisky Proeverij
(35)
NOSING & TASTING
Session at 3 p.m. on reservation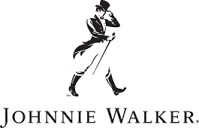 Born in 1820 Still going strong
Johnnie Walker is een blended Schotse whisky. Het wordt in 200 landen verkocht en is daarmee de meest verspreide Schotse whisky. Het bedrijf verkoopt jaarlijks 18,3 miljoen flessen. Het is een merk van Diageo.

JOHNNIE WALKER KEEP WALKING
Book: A Long Stride, The Story of The World's No. 1 Scotch Whisky by Dr. Nicholas Morgan
2015 "Joy Will Take You Further" Biggest ever Global Marketing Campaign launched.
Refurnishing Visitor Centers at Cardhu, Clynelish, Glenkinchie, Caol Ila and a new Johnnie Walker Experience Centre in Edinburgh
THE SINGLE MALT WHISKIES FROM DISTILLERIES IN THE FOUR CORNERS OF SCOTLAND
REPRESENTING THE FOUR PILLARS OF THE JOHNNIE WALKER CHARACTER ARE :

CARDHU, CAOL ILA, CLYNELISH, GLENKINCHIE
We choose the whiskies from our existing stock, this change from time to time.
THIS 4 SINGLE MALT WHISKIES à 2 cl = 65,00 person
Glenkinchie
Nose: Honeyed tinned stone fruits, toffees and a hint of strawberry with red apple and ginger coming through with a little water. Palate: Fairly dry with biscuity oak and a little cinnamon as well as some development of those toffee and apple notes
Cardhu
Nose: Good body, decent sweetness, richness. Streaks of smoke, apple peels, bruised pears.
Palate: Smooth, rounded, gentle sweetness, soft peat.
A little smoke whispers sweet nothings.
Finish: Long, dry smoke, malty touch of peat.
Clynelish
Nose: Zesty, mandarin, tangerine. Smoky.
Palate: Quite light, great clarity. Orange, soft acidity. Dry oak. Mixed fruits, vanilla, leather.
Finish: Quite long, bitter sweetness developing, spicy oak.
Caol Ila
Nose: Fresh, herbal. Rubbed peppermint leaves, stemmy, damp grass, smoky. Oily, cigar leaves, smoked ham, hickory. Lemon peels at the harbour.
Palate: Good body, oily, tar, elegant smoke. Hints of boiled sweets.
Finish: Long, peppery, spicy warmth, smoke.