THE DALMORE Creating a Luxury Brand
NOSING & TASTING / Whisky Proeverij
(39)

NOSING & TASTING
Session at 3 p.m. on reservation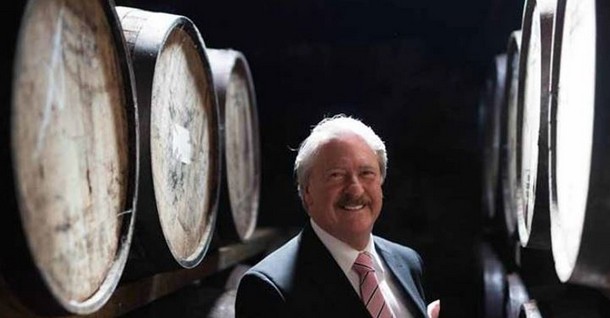 1839 or 1841 Dalmore founded by Alexander Matheson, nephew of Sir James Matheson, born in 1796 at Lairg, Sutherland and trader
Along with his business partner William Jardine, he formed Jardine Matheson & Co, smuggling opium into China in exchange for
tea and silks, with the tacit support of the Brithish Government
1839 - 1842 Chinese opposition to this trade was ultimately to lead to the Opium Wars
Alexander Matheson who had been taken into the firm by his uncle and this brought great wealth to him
Dalmore was constructed next to Dalmore Mill, on the Alness Water
Some of Alexander's money was spent acquiring large estates in Easter Ross, including that of Dalmore, purchased for 24.700 Pounds, he laid
out the vast amount of 773.020 Pounds buying 220.000 acres in the county of Ross
Also read the books from James Clavell: Taipan and Noblehouse
THE DALMORE: CREATING A LUXURY BRAND:
Richard Paterson Master Blender Whyte & Mackay, owners of Dalmore, Isle of Jura, (Old) Fettercairn, Tamnavulin:
As with any luxury product price is determined by both quality of the product and its about beautifully handcrafted products and
demand for such a product. it's about the quality of the casks in which the liquid is stored, it's about time it takes for it to mature,
it's about finessing and finnishing that has gone into the whiskiy development and the rarity and scarcity.
It was 2002 when Dalmore first took the record for the most expensive bottle ever sold at action = 25.000 pound.Two years later
Dalmore took the important decision to open a small visitor centre and then also saw the launch of the iconic silver stag.
In October 2010 a 64 year old Dalmore was the first bottle of whisky ever to break the 100.000 pound mark

Dalmore did not change their whisky, the main thing that changed was the public perception of the brand and therefore what they perceived Dalmore
whisky to be wordt and what buyers became willing to pay.
This incredible price tag is due primarily because of its taste and rarity. Only 12 bottles of the Dalmore 62 were created.But more than the monetary
value of these whiskies, each bottle holds a great amount of value in terms of the brand's heritage

The 180th anniversary Dalmore bottling was limited to three bottles and in 2019 Dalmore took a 30.31% increase in market value.

THE DALMORE 12 years old 40 %,
SPECIAL CASK FINISH BLACK PEARL Madeira Wood Finish, Matured in Malmsey Madeira Wine Casks,
Date of Distillation 20.02.92 Bottled: 2004
THE DALMORE 18 years old 43 %,14 Years Maturing in American White Oak,3 Years Maturing in Sherry Butts,1 Year Married in Upstanding Sherry Butts
DALMORE 25 years old 43 %, Limited Edition, Numbered Bottles, Distilled Prior to 1960
This 3 EXTREMELY RARE DALMORE SINGLE MALT SCOTCH WHISKIES à 2 cl = 125,00
pro person